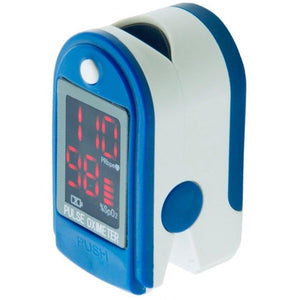 Finger Pulse Oximeter
SPO50
---
Same Day Shipping:
Most orders placed prior to 2:00 pm Pacific Time ship same day.
Our Warranty:
Our warranty is behind every product we supply and we match the warranty of the original manufacturer.
Certifications:
All of our products are manufactured in an FDA approved facility and are ISO 9001 and CE certified.
Compatibility:
We guarantee our products to be 100 percent compatible with the OEM part that we are replacing.
---
Description
---
Sensoronics SPO50 Digital Finger Pulse Oximeter (CMS50DL)
The SPO50 finger pulse oximeter can be used to measure human hemoglobin saturation and heart rate through a finger.
- Lightweight for carrying and Easy-To-Use.
- LED display, simultaneous display for testing value and plethysmograph.
- Low Battery voltage indicator.
- Automatically standby or sleep.
Comes With:
Keywords: Chronic Obstructive Pulmonary Disease (COPD)