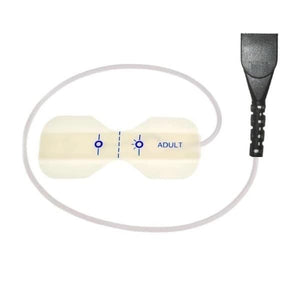 Nonin Compatible Disposable SpO2 Sensors
SFP-NON-18A
---
Same Day Shipping:
Most orders placed prior to 2:00 pm Pacific Time ship same day.
Our Warranty:
Our warranty is behind every product we supply and we match the warranty of the original manufacturer.
Certifications:
All of our products are manufactured in an FDA approved facility and are ISO 9001 and CE certified.
Compatibility:
We guarantee our products to be 100 percent compatible with the OEM part that we are replacing.
---
Description
---
Sensoronics Nonin Compatible Disposable Adhesive Foam SpO2 Sensors
Replaces:
C&S: S503-080
Envitec: DA-2231-1
Nonin: 6000CA, 7000A
Pacific Medical: NHNN5025-FA
Compatible Models:
Nonin: 2120, 2500, 2500A, 7500, 8000Q, 8500, 8550, 8600, 8700, 8800, 9600, 9700, 9840, 9843, 9847V, Avant, Lifesense, PalmSAT
Respironics: Alice 6, 920, 920M Plus
Specifications:
Adult Size: Patients weighing 66 lbs. or more
Pediatric Size: Patients weighing 22 lbs. or more
Infant Size: Patients weighing 2.3 lbs. up to 44 lbs.
Neonatal/Adult Size: Patients weighing less than 6.6 lbs. or more than 66 lbs.
Categories: Pulse Oximeter Sensor, Pulse Oximetry Sensor